Kuitulaserit SF6016 ja SF6020
Putkilaserleikkauskone, jota käytetään pyöreää putkea, neliöputkea ja muiden metalliputkiprofiilien leikkaamiseen.
       Putken leikkauskoot : 6000mm* φ10~220mm 
       (neliöputki: 10*10~150*150mm)
       Laserteho: 1.5KW/2KW/3KW/4KW
       Suurin nopeus: 100m/min
       Paikoitustarkkuus: ±0.05mm
       Toistotarkkuus: ±0.02mm
       Suurin pyörimisnopeus: 100r/min
       Suurin kiihtyvyys: 0.8G
       Koneen kokonaispaino: 4080KG
       Leikattavan kappaleen suurin paino: 150KG
       Koneen ulkomitat: 9700*1900*2300mm
                               Pyydä tarjous.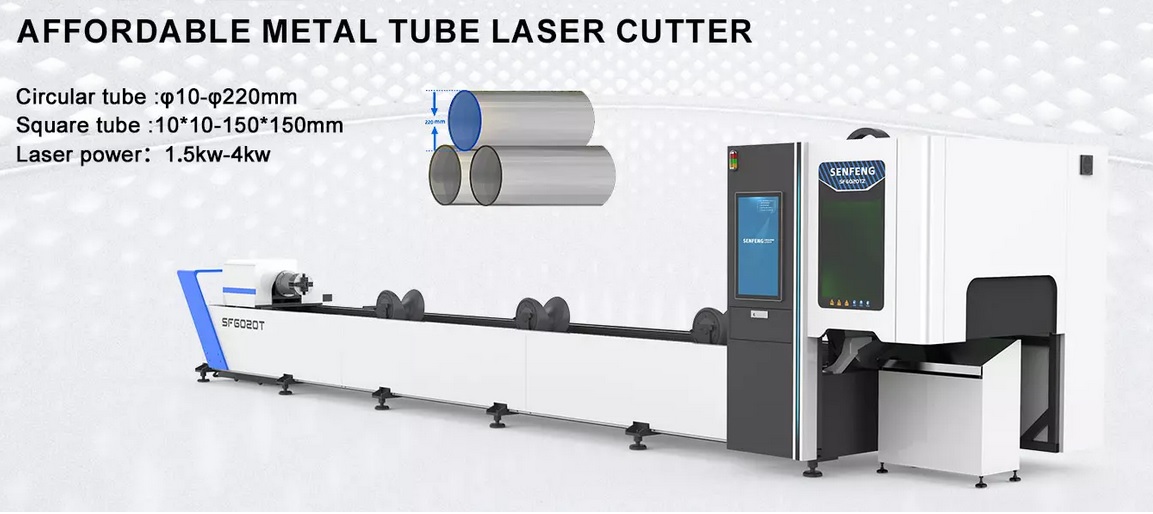 SF6020T affordable tube laser cutting machine is also called tube laser cutting machine,which is used for cutting round tube,square tube and other metal tube. Pipe processing range 6000mm* φ10~220mm.(square tube: 10*10-150*150mm).SF6020T affordable metal tube laser cutter is equipped with fiber laser device, laser power from 1.5kw to 4kw.
What is the thickness can a metal tube laser cutting machine cut?
| | | | | |
| --- | --- | --- | --- | --- |
| Material | 1.5kw | 2kw | 3kw | 4kw |
| Carbon steel(mm) | 1-10 | 1-10 | 1-16 | 1-18 |
| Stainless steel(mm) | 1-6 | 1-6 | 1-8 | 1-12 |
| Aluminum (mm) | --- |  1-4   | 1-6 | 1-8 |
Processing a variety of pipes, large loading ability
It can process round pipe, square pipe, rectangular pipe, round pipe diameter Φ10mm-220mm, square pipe side length 10*10mm-150*150mm. Single tube load bearing up to 150kg.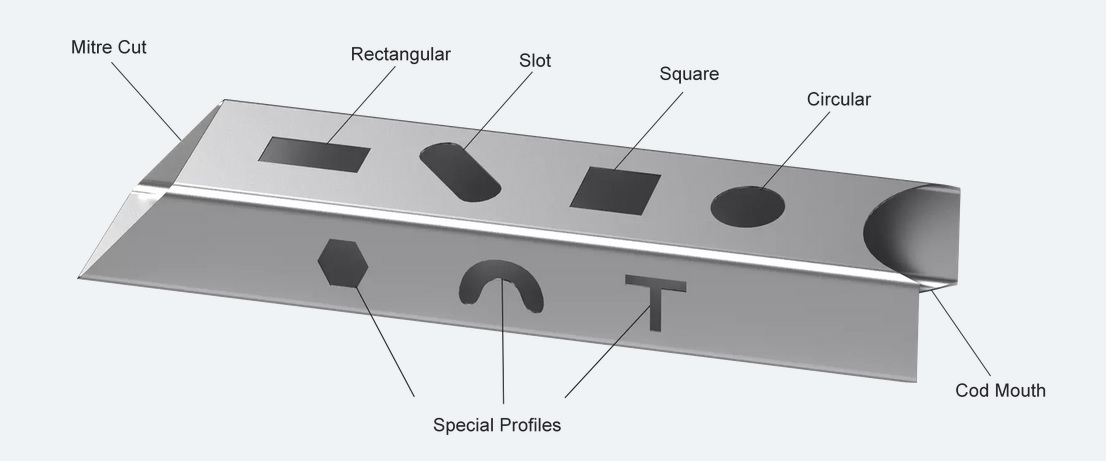 Pneumatic self-centering chuck
High clamping accuracy and fast speed; self-centering gear transmission, high efficiency,
Intelligent pneumatic jaws, large clamping force, stable feeding, more precise cutting.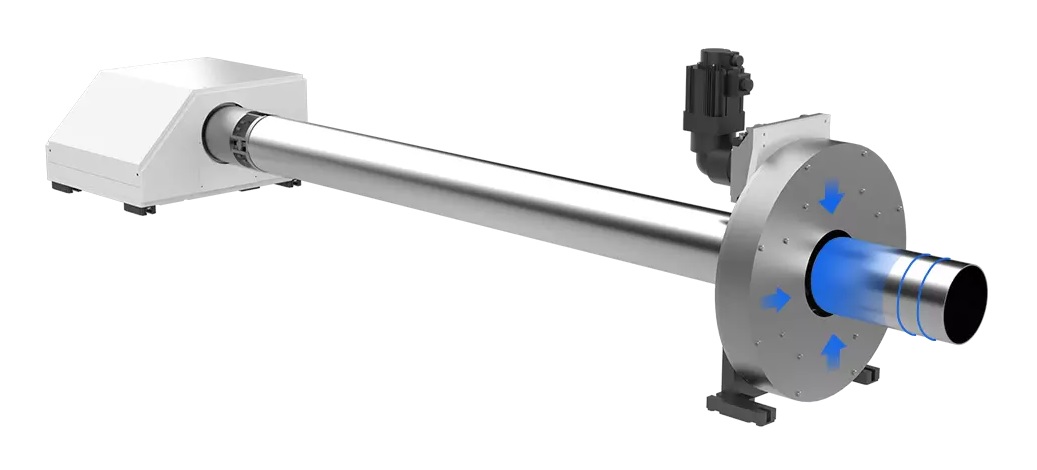 Tubepro tube cutting software
SF6020T affordable metal tube laser cutter is equipped with FSCUT3000S pipe cutting system, 

which suppors high-precision and high-efficiency cutting of square pipes, round pipes, racetrack-shaped and oval-shaped stretched pipes, as well as angle steel and channel steel.
Automatic Loading and Unloading System(Optional)
It can be equipped with automatic loading and unloading system, 6 meters of pipe bundles, 
intelligent sorting, efficient feeding, high degree of automation, saving labor cost and improving
working efficiency.

APPLICATION MATERIALS OF TUBE LASER CUTTER

​​​​​​​

Which one is best for you?
 Model

SF6016T

SF6020T

Pipe processing range

(Round tube:6000mm* φ10~160mm)

(Square tube: 10*10~110*110mm)

(Round tube:6000mm* φ10~220mm)
(Square tube: 10*10~150*150mm)

Laser Power

1KW/ 1.5KW/2KW/3KW

1.5KW/2KW/3KW/4KW

Maximum Speed

120m/min

100m/min

Maximum Rotational Speed

120r/min

100r/min

Positioning Accuracy

±0.03mm

±0.05mm

Repeated Positioning Accuracy

±0.03mm

±0.02mm

CNC control system

RayTools/FSCUT3000S

RayTools/FSCUT3000S

Servo motor

Germany lead motion

Germany lead motion

Chuck brand

SENFENG

SENFENG

Chuck number

2

2

Maximum load bearing

100KG

150KG

Automatic Loading System

Optional

Optional

Automatic Unloading System

Optional

Optional