| | |
| --- | --- |
| Cutting mode | High definition plasma cutting |
| Input Voltage | 110V / 220V |
| Frequency | 50 / 60Hz |
| Cutting size | 3000 * 1500 mm |
| Input power | 3600w |
| Drive motor | Panasonic servo motor |
| Reducer | 1:25 |
| CNC controller | IPC |
| Plasma Power Source | ArcBlitz HD |
| Running Cutting Speed | 0 – 20000 mm/min |
| Tolerance | ≤ 0.3mm |
| Height Control | Automatic voltage THC |
ProPlasma XL CNC High Definition Plasma Cutting Table for Workshop PRO!
Pro PlasmaXL ArcBro flagship true hole HD plasma CNC cutting table launched in 2020. This robust, industrial table is built with production in mind. The plasma table can handle the rigors of continuous production runs with industry leading repeatability and reliability. And it has been designed and built from the ground up by ARCBRO engineer team- ensuring a world class product with the quality and reliability you have come to expect. It meet all the requirements of HD cutting, improve production efficiency, reduce operating costs, comprehensively upgrade the cutting process, and build for all-day production. This one perfect plasma machine for every professional workshop own achieving the highest efficiency possible. The nozzles accompany each other, creating multicolor, multi-material models.
Main frame and crossbeam are heat treated. Machine body strength and durability are maximized.
High loaded iron gasket, guarantee machine leveling and absorb resonance.
Fork lift position was already setup, easy to move.
Magnetic anti-collision torch holder, connected by wire-rope, provide best torch protection.
Plasma cutting for HD true hole.
Cutting table is separated from machine frame. If cutting table is damaged by long time use, machine body get no any deformation.
21'' industrial touch screen, best operation experience.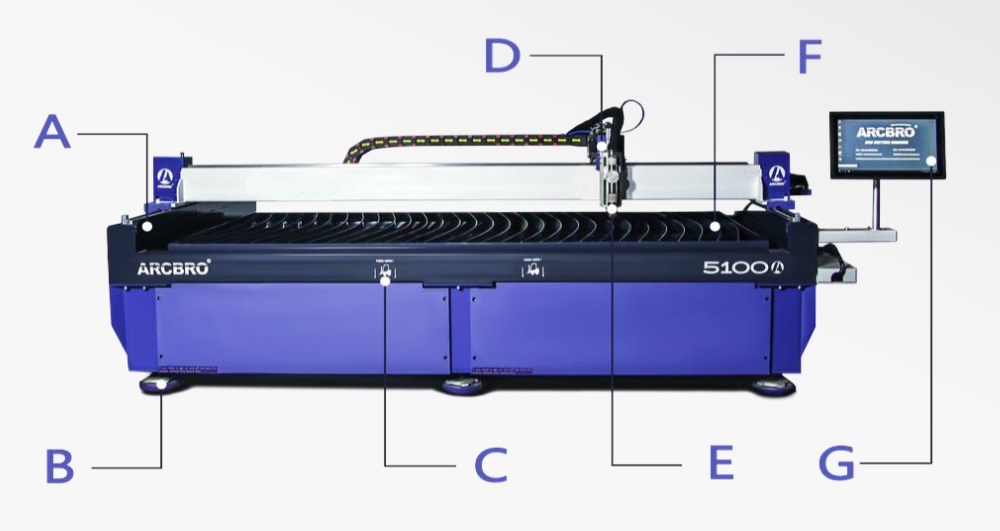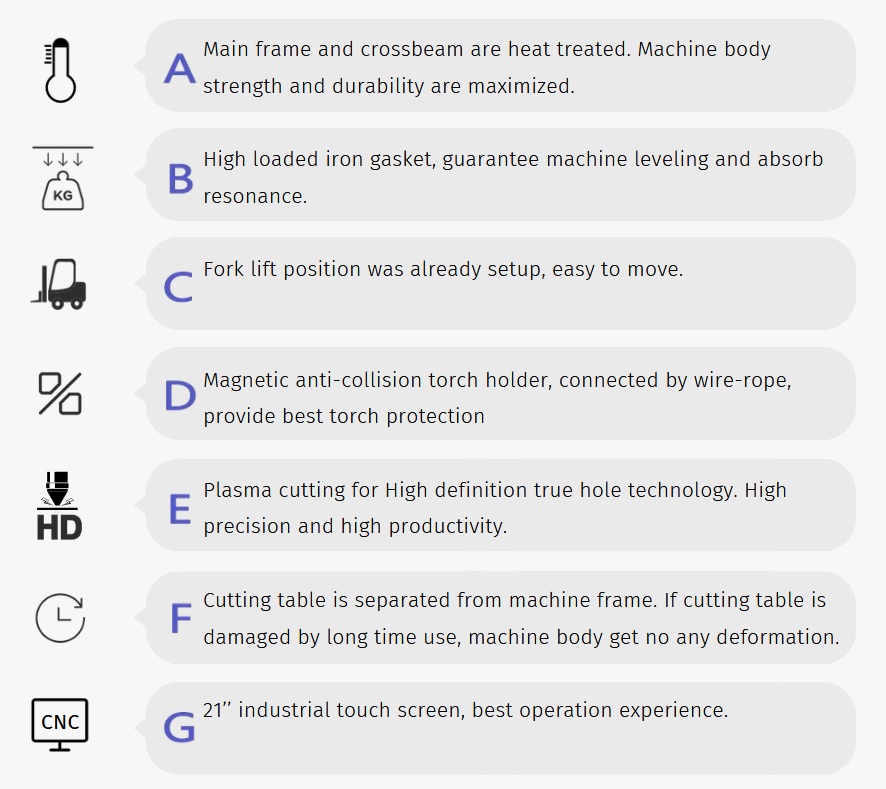 High Productivity ≠ High cost
A common thread in the technological advancement of plasma cutting since its invention is the continuous reduction in the cost per foot or meter of metal cut. This phenomenon, greatly accelerated in Stinger pro, is a primary driver of improved profitability for the user.
The cutting speed is three times than flame cutting, but the unit cutting cost is only 1/3 of the laser and same as flame cutting. Such high efficiency and low cost is what all users dream of. Right now, Stinger pro is the best choice to achieve this kind of requirement.
Superior Machinery, every set is heat treatedprocessed
Metal heat treatment is one of the important processes in mechanical manufacturing, which is characterized by improving the inherent quality of the workpiece, which is generally not visible to the naked eye. In order to maximize the service life, every set of Stinger Pro got heat-treated. In this way, we can increase the durability, so that a five years' working life is promised. Powerful plasma power challenges the strength and accuracy of the airframe. But ProPlasma XL performed perfectly.
To be more convenient, ProPlasma XL has plug and play design. The operation data, wiring works and mechanism are all done before shipment. So, when you receive it, you can run it.
Fantastic perpendicularity, Say goodbye to annoying tapper!
Pro Plasma XL can bring you a wonderful cutting quality, through all thickness. With HD plasma source ArcBlitz, this solution is able to meet ISO range 3 cutting quality. It means the taper angle is smaller than 2 degree. So, say goodbye to annoying tapper.

The perfect hole technique is optional if you need to compare with drilling machine, we use perfect hole technology on bolt holes. It is the way more efficient.
Ota yhteyttä
Ota yhteyttä ja kerro mitä lisätietoja haluat tästä tuotteesta