LASERit fiber kelalta syöttävä malli
SKU
LASERit fiber coil feed model
Kelan suurin paino: 10T
Syöttönopeus: 0-10M/MIN
Turvallinen CE/FDA sertifioitu
Soveltuvat materiaalit:
Kylmävalssattu kela, sinkitty kela, ruostumaton teräskela, alumiinikela
Työstöala (mm): 3000*1500
Laserteho: 1kw/1.5kw/2kw/3kw/4kw
Materiaalin paksuus: 0.5-2mm
Materiaalin leveys: 500-1500mm
Kelan suurin ulkohalkaisija: Φ1500mm
Kelan sisähalkaisija: Φ508/Φ610mm
Kelan suurin paino: 10T
Fiber laser blanking system combines a fiber laser cutting machine with an automatic metal coil feeding system resulting in an efficient coil fed laser cutting solution.Laser blanking reduces power consumption compared to its alternatives, such as press lines and results more efficient and flexible.The automatic design of the whole process, which is from loading-uncoiling-leveling-cutting saves labor, realizes the net cutting of coil materials, and improves the utilization of sheet materials.
Features of fiber laser blanking system
High work efficiency and cost saving
The load-bearing capacity of the single-support uncoiler is 10 T, and the feeding speed of uncoiler is 0-10m /min (stepless speed regulation).

Leveling sheet metal, eliminating the stress
After the coil is uncoiled, the plate is leveled by the leveling machine, and the stress of the plate during the leveling process is eliminated, so that the plate is smoother and a better cutting experience is obtained.

High precision positioning and rectifying process
The special screw nut is used to drive the rectifying roller to install the slide block, so as to realize the positive orientation of the plate ,no need laser edging and save the cutting time of the plate.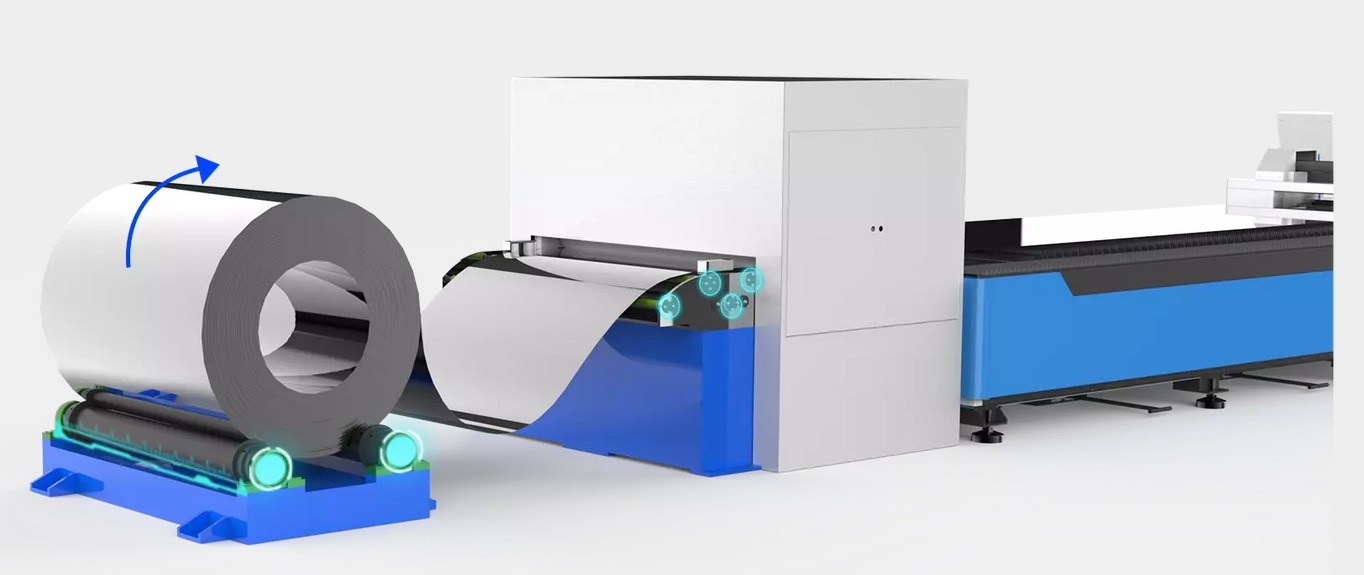 High precision transmission structure
Ultra-precision transmission system is adopted, high transmission accuracy.