Laadukas ja helppokäyttöinen 3D tulostin Turvallinen suojattu rakenne Hepa-suodattimella 5-tuuman värillinen kosketusnäyttö. Opastettu tason säätö, led valaistus. Usb-, wifi- ja ethernet-yhteys. Automaattinen filamentin lataus. Kamera ja tulostuksen etäseuranta. Joustavasta tulostusalustasta on helppo irrottaa tulostetut kappaleet. 3DWOX Desktop Slicer-ohjelma sisältyy toimitukseen. Materiaalit PLA, ABS, ASA, PETG, jne. 3DWOX 1X tulostusala 210 * 200 * 195 mm. 3DWOX 2X tulostusala 228 * 200 * 300 mm. Hepa-suodatin estää pienhiukkasten pääsyn laitteen ulkopuolelle. Sindoh 3DWOX 2X on varustettu kahdella tulostuspäällä. Mahdollistaa kahdella eri filamentilla tulostamisen, saatavana PVA-tulostuspää vesiliukoisen tukimateriaalin tulostamiseen. 3DWOX 2X mallissa on myös puheella tapahtuva opastus.

2X's two nozzles work interdependently, achieving the highest efficiency possible.
The nozzles accompany each other, creating multicolor, multi-material models.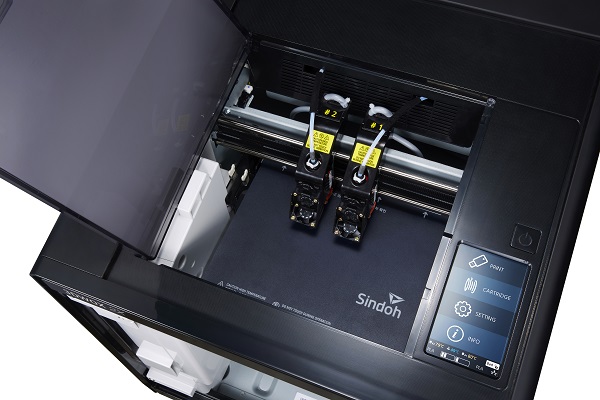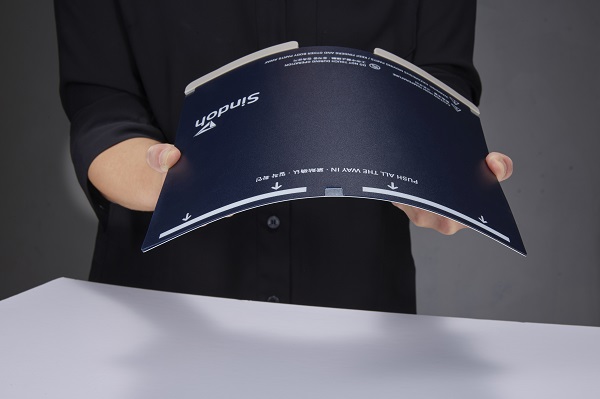 Combinations of technologies give birth to brilliant innovations. Starting from the DP200's heating bed to DP201's Flexible Bed, we have now redefined the standards of the print bed, bringing both advantages together.
3D printing is a reality and is getting closer to becoming a practical tool in everyday life. To satisfy this demand, our goal is to offer as many material options for our customers. Now with 3DWOX 2X, you can print PLA, ABS, Flexible and PVA filaments and a whole lot more is coming your way.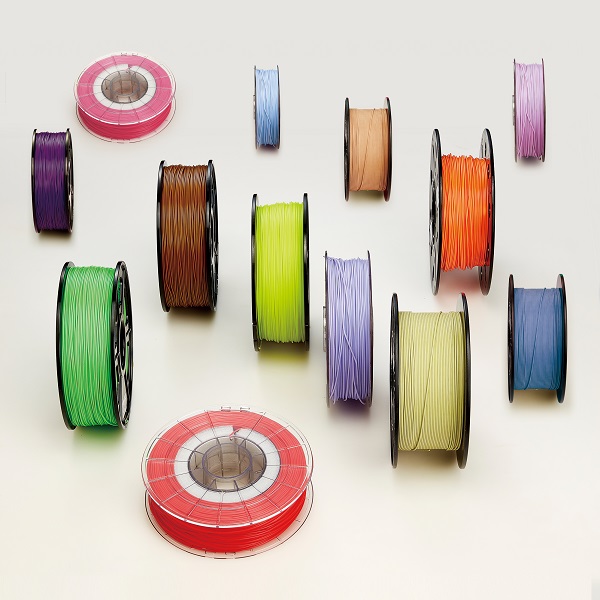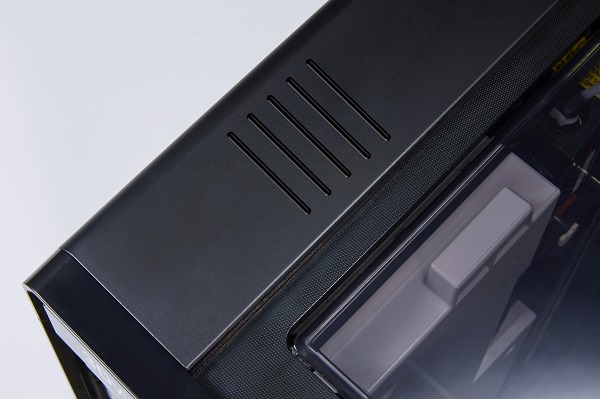 2X is ready to help you throughout your printing. Should there be any errors occurring, 2X will guide users through trouble-shooting methods. Just listen to what 2X has to say. You will know what to do.
2X is powerful and robust yet, the most silent 3D printer you've ever heard of. With its library noise level of 40 dB(A), you can now enjoy all kind of things, such as getting other works done, eating an ice cream or simply going to sleep without being disturbed. Let 2X bring peace in mind with silence.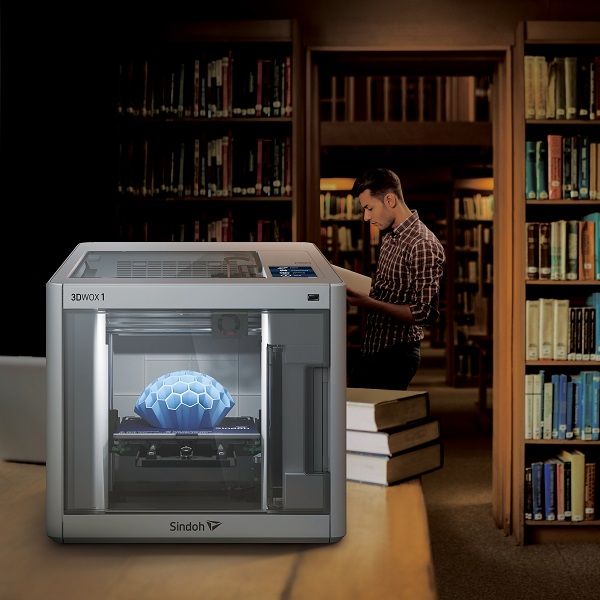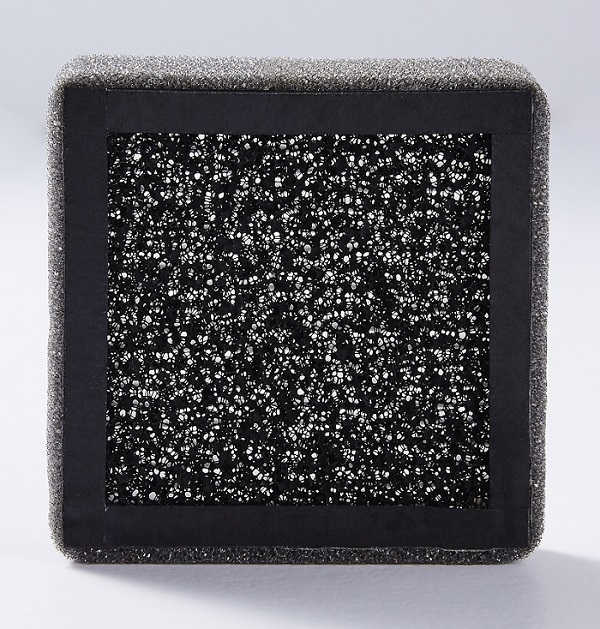 3D Printers use various materials that can create dusts during printing and we came up with a dust-safe answer. 2X's High Efficiency Particulate Air filters, designed to arrest very fine particles effectively, will trap the dust and dirt from the materials. Filter it out and create a healthy printing environment.
KEEPING THE BESTS OF THE ORIGINAL
At Sindoh, we have always believed that 3D Printing should be easy. With 2X, you can still enjoy the best functionalities from the original such as print monitoring, auto-loading, bed leveling and email notification. It is still amazingly simple.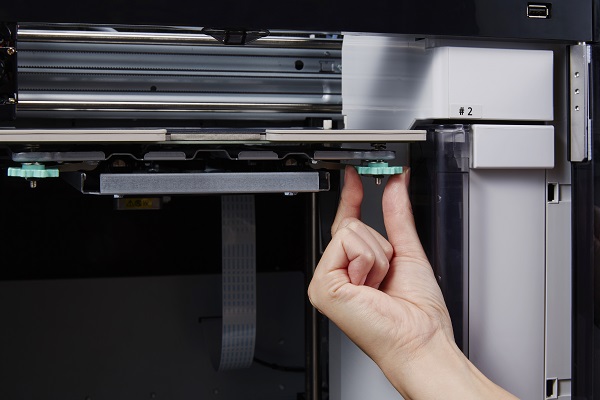 3DWOX 2X SPECIFIKATIONS

Print Technology

2 X FFF

Print head

Dual Nozzle

Nozzle Diameter

0.4mm

Max Build size (WxDxH)

228 x 200 x 300mm (8.9"x7.9"x11.8")

Material

PLA, ABS, Flexible, PVA(Requires PVA Nozzle)

Connectivity

USB Flash Drive, Ethernet, WiFi, USB Cable

Layer Thickness

0.05 ~ 0.4 mm

Filament Diameter

1.75mm

Size (W×D×H)

490 x 466 x 573mm (19.3"x18.3"x22.6")

User Interface

5" color touch screen

Leveling

Auto Leveling Measurement + Manual Adjustment

Auto-loading Cartridge

Automatically loads filament to nozzle

LED Lamp

For Internal Lighting

Monitoring Camera

Check print status remotely with laptop or smartphone via WiFi connection

Slicer

3DWOX Desktop Slicer
Sindoh Cloud Slicer

Software Compatibility

Solidworks Add-in 2016 or above
AutoDesk TinkerCAD

Operating System

Window 7 or above
Mac OSX 10.10 above

Note

Standard VGA driver on operating system, or a graphics card doesn't support OpenGL 2.0, may cause unknown error in 3DWOX Desktop.