3D-skanneri RangeVision Spectrum
RangeVision Spectrum on uusi korkean resoluution 3D-skanneri perustuen turvalliseen rakenteelliseen valotekniikkaan. Se on suunniteltu pienten, keskikokoisten ja suurempien kohteiden skannaamiseen. 3D -skannerissa on kolme 3D-kannausaluetta ja se on varustettu kolmella 3.1 Mpix kameralla. RangeVision Spectrum 3D-skanneri  skannaa kaiken kokoisia ja muotoisia esineitä sekä pieniä yksityiskohtia korkealla 3D -resoluutiolla jopa 0,04 mm tarkkuudella.
RangeVision Spectrum 3D-skanneri kahdella kameralla
Automaattinen pyörityspöytä
Jalusta
RangeVision -ohjelmisto
Kuljetuslaukku
SKU
3D scanner RangeVision Spectrum
Important qualities
3D scanner Spectrum offers several unique abilities, such as: capturing of the finest details, possibility to scan different-size objects and much more.
Small details

Industrial colour cameras with 3.1 mpix sensors capture the finest details and curved surface of the object – up to 0.06 mm.

Complex shapes

The two cameras capture the geometry of the object, while making a scanning process more accurate and stable, reducing the need to calibrate the scanner during operations to a minimum. Spectrum is an ideal device for creating accurate visualization of objects with a complex shape.

 

Different-sized objects

Thanks to the possibility to scan with targets and adjustable fields of view the size of the scanned object is limited only by your imagination and the power of your PC.

Any size of scan object

RangeVision Spectrum is a multi-purpose device capable of scanning objects of different sizes simply by changing the scanner's field of view. No need to look for the options or another 3D scanner – Spectrum is 3 scanners in one. This device provides highly detailed scans of any type of object, from jewelry to large automobiles, with accuracy up to 0,04 mm and 3D resolution up to 0,06 mm. It is a perfect solution for companies that specialize in 3D scanning services, reverse engineering, product design or production of all kind of small or medium-sized objects.

A multipurpose 3D scanning software RangeVision ScanCenter

User-friendly RangeVision software comes with free updates and is included in the price of the 3D scanner. Align and merge 3D scans into a complete digital 3D model without exporting to a separate post-processing software – all necessary functions are built-in. Obtain a ready-to-use 3D model for any CAD/CAM, 3D modeling or 3D printing software.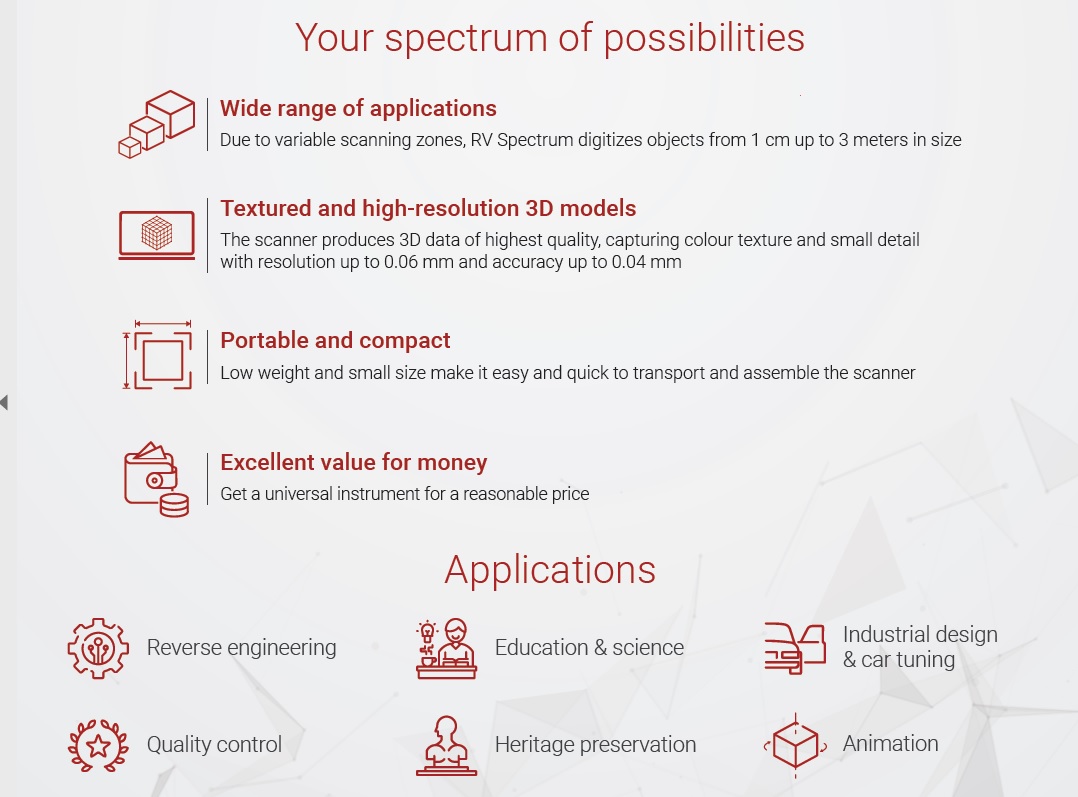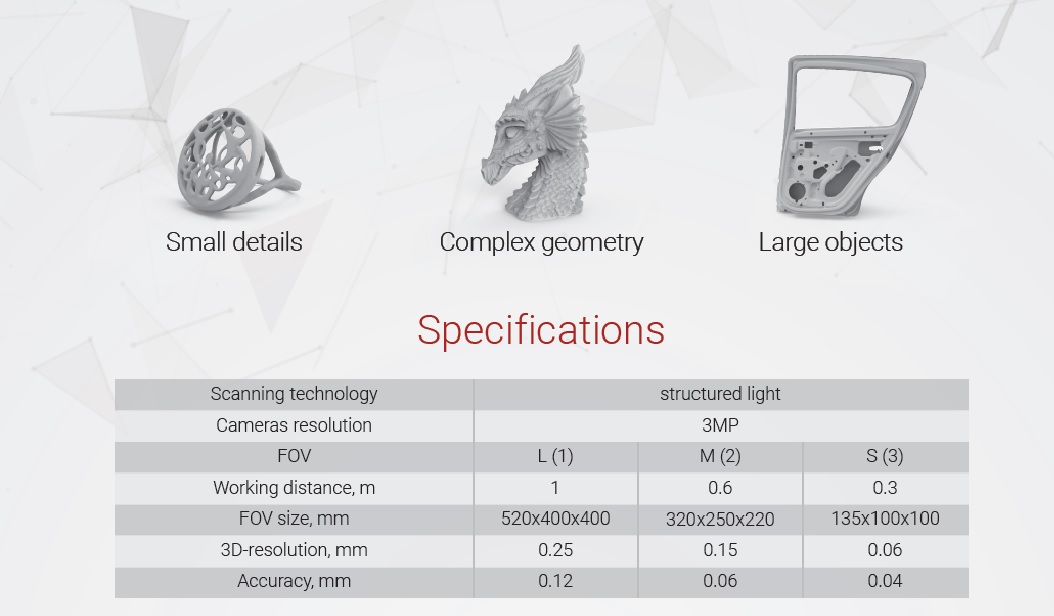 Software
ScanCenter NG software comes with a scanner and allows you to get a finished 3D model of high quality for further work in all popular CAD/CAM programs and virtual 3D modeling environments. Updates of the software are free of charge.
Package contents

 

Scanning module with cameras and LED projector

Automatic turntable up to 20 kg load capacity

Set of cables

Tripod

RangeVision Software with digital license key

Set of self-adhesive markers

Set of calibration plates

Protective travel case

Techsupport

Free software updates